Trust is the secret ingredient which makes great outcomes possible in teams. The Vista Print's Agile transformation is one which achieved great outcomes too. Unsurprisingly, when we studied this transformation, we found the element of trust which was built by design, within teams. Let's explore how trust was built between the two teams which needed to collaborate in this edition. Building trust within teams is possibly the most important ingredient for achieving great outcomes in organisations.  Here is how teams at Vistaprint experienced this Agile Transformation.
Vistaprint Story
By 2013, Vistaprint had grown from being only a visiting card print shop. It was now an ecommerce behemoth with 15 billion dollars in revenue in the mass customised merchandise space. This growth and scale had slowed down operations internally between the marketing and design team. It took 6 weeks for a marketing campaign request to be executed by the internal design team. Bridget O'Brien – VP of the design team was tired of being blamed for delays and missed deadlines. The channel marketing team was tired of being blamed for using too many design resources. The design team on the hand was tired of working hard, round the clock at times and not seeing any results. They were stuck with layers of approvals and ever-changing requirements.
Bridget O'Brien the VP was desperate, nothing seemed to be working. She had seen the IT team at Vistaprint use Agile methodologies. Without knowing if it would work for her creative team, she asked the IT team to loan her an agile coach. 
Agile Stories
They onboarded two Agile coaches in fact, David Grabel (external coach) and Staci Dubovik (internal coach). Here is how the teams experienced this Agile transformation. Team members got to speak one-on -one with the agile coaches. This helped the coaches understand the context of the teams and their pain points. The need for better collaboration between the design and marketing teams was clear and quite easy to see.
What was not so easily visible was the need for the two teams to trust each other for collaboration to be possible. Trust is fragile. Research has shown that individuals and teams establish trust through credible, repeated interactions over time and shared contexts. These two teams unfortunately had a string of missed timelines and projects which went into loops between them. Before any meaningful progress towards outcomes could be made, the teams had to learn to trust each other. They had to assume best intent from each other. Teams had to see each other as hard-working professionals with the customer's best interest at heart. How did Agile help these teams build trust?
Agile and Trust
Agile approaches gave the Vistaprint team with a road-map for building trust. The team understood that to build trust, the teams needed to experience each other differently and more often. Small experiments, well designed rituals and food helped them in this process!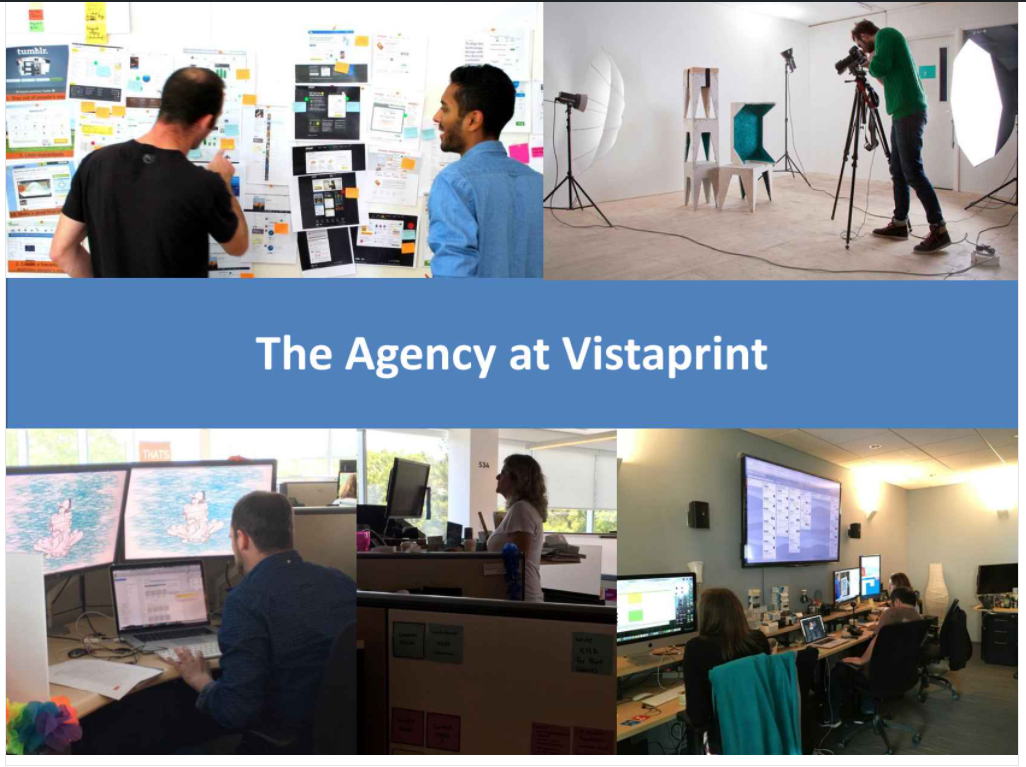 The team broke down the work into smaller chunks. Each chunk of work was taken up in an experimentative manner. Teams learnt through these hands-on experiences. A big change in building trust was limiting the work-in-progress mindset. Teams did not start another task until they had completed the existing one. A visual board helped them see their WIP tasks. A prioritized idea pipeline, ensured conversations with the marketing team to stack-rank projects. Individual team members chose tasks from this list, giving them a sense of agency too. A daily stand up around the board, ensured that teams were well informed on progress. This also created a shared language along with a shared context. They started calling the marketing team as partners instead of internal clients. Further creating a shared language, the Vistaprint team created the Agile Marketing Manifesto adopted from the Agile Manifesto to suit the marketing team's needs and shared it with other companies. A big shift.
The result was that the cycle time for design requirements moved from 6 weeks to 2 weeks and then to 9 days! This success prompted the top leadership team to adopt agile and explore building trust further. We will talk about the leader's journey in building trust in our next edition. For now, let's remember Agile starts with Trust.
Agile builds trust
Agile gives teams a road-map for building trust. Trust is the glue that binds teams together, drives performance and enables collaboration. But you can't force trust. It is a judgement people must reach on their own. By trusting colleagues, we are willing to be vulnerable to them and that they will do their part. In teams, trust includes an expectation that people will act for the good of the group.
Each agile principle is designed to increase transparency among teams and give them more opportunities to experience each other. Rituals and ceremonies like daily stand ups, retrospectives, sprint planning add predictability. Even as teams deal with changing requirements and timelines. This visual sums up the virtuous cycle.
Apart from one story which captures the human centric change in the world of Agile, the Agile OWL brings to you every fortnight, the latest reads, books, trivia, and quote from the world of Agile and its methodologies. Stuff that caught our attention. This is edition 34 and we carry seven useful links for you. Tell us what you thought of them

From social media:
The post-it note is possibly the most underestimated tool we carry. Here are

13 ways of looking at a post-it note

.
Beliefs the company holds and lives determines its ability to change and adapt. However often the belief is not stated but can be observed and felt. Explore where your company and team fit

with these six core beliefs

.
From the Agile world:
From the bookshelf:
From the tool box:
ICED framework is useful to grow infrequent product usage. Infrequent –Control over experience – Engagement – Distinctiveness. Have you applied it to your current product/process/intervention?

Explore more here.
#AgileQuotes to sign off:
Note : This post is Edition 34 of the Agile OWL from the OWL umbrella. The Agile OWL is a newsletter focused on the human experiences and stories within agile transformations. Sign up to receive the newsletter here