When one thinks of an Agile way of working a few characteristics spring to mind. They are – iterative, sprint based, value driven, cross functional teams, collaborative.  Companies seek to achieve these in different ways. For instance, when trying to create collaboration in their teams, companies opt for open offices. They also try project-based team structures and/or create forums for interaction amongst teams. This edition we carry an Agile story from AirAsia in their quest for collaboration. They did all the above 'and' something more to engineer collaboration. AirAsia helped its employees 'Learn to Look and Converse' to enhance collaboration. Read on to find out how this walk-look-talk played out.
Gemba Walk
Let's start with a walk, executives in AirAsia were expected to walk to the place where work happened. This could mean anywhere from the airport hangers to where teams worked from. AirAsia is the world best low cost air carrier eleven years in a row and have used the COVID crisis to reinvent themselves. Returning to the Gemba walk which set all this in motion, the key to this walk is three pronged: 'Go See – Ask Why – Show Respect'.
AirAsia adopted this practice from Lean Manufacturing. Called as the 'Gemba walk', it is designed to help executives observe and understand the process. The walk was not to point out flaws or enforce policy. Its purpose is to encourage greater communication, transparency and trust between employees and leaders. It helped leaders learn to look and converse.
Courage-Curiosity – Humility is a troika we return to often in our work. The Gemba walk leverages the same principle. Leaders show up to this walk with curiosity, open minded and eager to see what is happening. They come from a place of humility, never all-knowing instead trying to understand how work is getting done. Leaders show courage and strength in avoiding immediate flaw pointing, superficial comments. Instead they stayed invested in the process of looking and observing.
Learning to step back
Leaders at AirAsia worked with their teams to process the information gleaned from the walk. They looked at problems from multiple perspectives, questioned their own lenses and personal truths. They looked for connecting threads to create value in the organisation. Looking and stepping back to make sense of what they had observed became a way of working. They needed to talk to different teams to create greater value for the organisation.
Learning to have a conversation
Conversations are a deceptively simple technique to create value. Teams across the globe struggle to make the best of their opportunities  to converse. This could be due to several reasons including inability to listen, unable to admit when we do not know, interaction forums which have no connection to the actual work the teams do.
AirAsia recognised that collaboration emerges when you tie in the looking-reflecting into the work teams do. This is the same principle we used with a law firm, to build collaboration into their culture. The leaders of the firm drove the firm's priorities from a place of looking, reflecting and conversing. The conversations gave birth to forums and agendas, not the other way around. Collaboration became accepted as a way of working and not an optional extra.
Collaboration
AirAsia used an Agile mindset, Lean framework and business priorities to engineer collaboration. They used a 'Listen-Decide-Do' approach. After the Gemba walk and the reflecting and process improvements within their own teams, AirAsia executives would converge for a larger organisation level conversation. They would then listen to accounts of the looking and reflecting from each other's team and finally arrive at the next steps for the firm.
Four questions helped AirAsia in their quest to break silos and enhance collaboration. When teams got together to decide next steps, they answered these four questions:
What matters most?
What they do not know? (apparently was the hardest question to answer)
What they align on? (at times it could be as simple as aligning on what they do not know)
What are the next steps? (this was work the teams would do of looking – reflecting -action before they met again).
At regular intervals these teams of 100-150 executives converge and begin the process of 'listen-decide-do' all over again. Always continuing from their last conversation and deciding on the actions until their next conversation.
Enabling and demonstrating an Agile mindset
An agile way of working is built on the premise of respect for people and breaking down silos between them. The way to 'acquiring or living' this mindset is through the 'doing'. This would mean enabling teams to understand the agile and collaborative mindset and then demonstrating how it plays out in their work and enhances it.  The organisational leaders must help their teams' practice (this mindset) through processes until the collaboration muscle is built. This requires deliberate practice. The best way to be agile is to be so. Collaboration is a foundational layer for agile. The ability to learn to look and converse is the starting point. Agile with a strong foundation of collaboration creates disproportionate value for the organisation.
Apart from one story which captures the human centric change in the world of Agile, the Agile OWL brings to you every fortnight, the latest reads, books, trivia, and quote from the world of Agile and its methodologies. Stuff that caught our attention. This is edition 17 and we carry seven useful links for you. Tell us what you thought of them.

From social media:
1.Staying with the theme of LEAN transformation and what makes it hard sometimes is this piece . It touches upon why the enterprise needs to be a learning loop to be a Lean Entrepreneurial Enterprise.
2. The intent of most organisations adopting Agile is to create a frictionless ecosystem. Where each element of the Process, People and technology reinforce each other. I enjoyed this piece which added a layer of Convergence, Collaboration and Context as being critical for creating a frictionless enterprise. The ability to learn to look and converse comes out here as well.
From the bookshelf:
3.LEAN is the theme of our book recommendation. LEAN Enterprise by Jez Humble, Joanne Molesky & Barry O'Reilly discuss how to scale LEAN Transformation in organisations.
From the tool box:
4. This time our tool recommendation is a colour-blind checker for developers on MAC, which can work on any interface.
From the trivia & fact box:
5. Tony Fernandes the CEO of AirAsia calls the conversation with Richard Branson in the lobby of the Virgin offices a life changing moment. Richard Branson went on to give him a job, even though the interviewers at Virgin had not selected him in the interviews that day. Tony Fernandes went on to grow and have his own airline one day! These two had a famous bet in 2010. They both owned a formula one team and the bet was that whoever's Formula One team – then Virgin and Lotus – finished their debut season lower would serve as a stewardess on the other's airline. Richard Branson went on to be the stewardess after he lost the bet!
#AgileQuotes to sign off.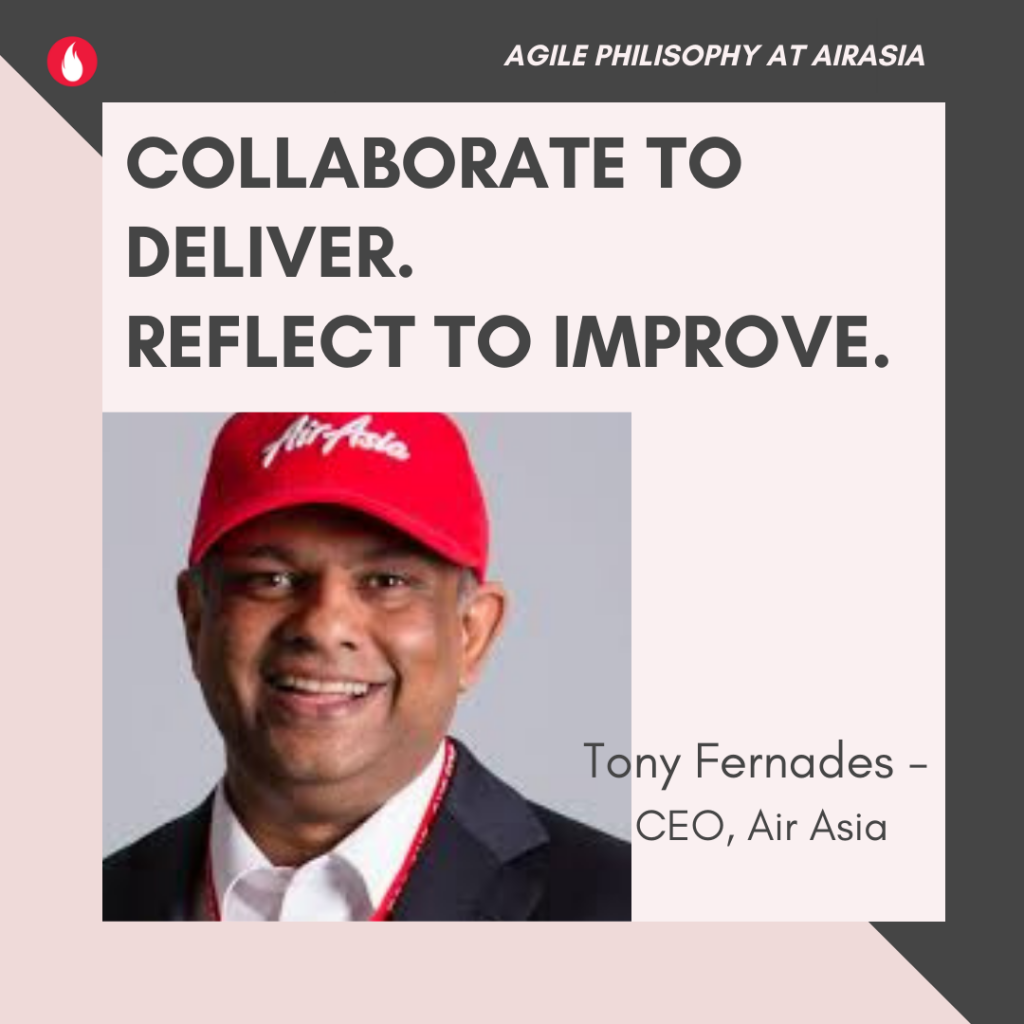 Note : This post is Edition 17 of the Agile OWL from the OWL umbrella. The Agile OWL is a newsletter focused on the human experiences and stories within agile transformations. Sign up to receive the newsletter here