It was daughter-daddy day out yesterday. I had optimistic notions of being able to send out this newsletter after spending some time with her introducing Gandhi to her, on his birthday. It didn't quite pan out the way I had thought it would.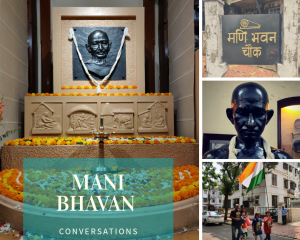 We went to Mani Bhavan. A house that Mahatma Gandhi frequented during his visits to Mumbai. At the end of it all, she had more questions than what I had anticipated.
'Who killed him?'
'Where is he now?'
'Are all of the British bad people?' "Alishba from my class is from Britain. Is she bad?"
And so the questions kept coming. Far beyond the precincts of Mani Bhavan. The one that stopped me dead on my tracks is this one,

"When he was fasting, did he really go without food? You mean, they allowed him?" I know a quick satyagraha or two is coming our way one of these days. Especially when the plate is holding some veggies! We'll see when it comes.
Amongst the questions that her questions lead me to play with in my mind is this, "What will Gandhi's view be of our present-day world"? The piece titled "How Gandhi Would Lead Toward An AI Future?" painted a landscape for navigation. Take a look!
The other question about Gandhi that has been on my mind is- what would he have done with Facebook? Imagine something like the Dandi march. And the power of amplification with social tools. But before we imagine possibilities, let us marvel the past. The sheer accomplishment of moving the nation during India's freedom struggle, without social tools is Incredible stuff.
On that note, have you ever wondered about how Facebook figures out everyone you have met? It scared me a bit. And it is true. Some of the examples there is stuff that should scare you.
There are three other pieces for you to check. One, on the amount of electricity required for Blockchain. Do give that a read. It was fun putting that piece together. What is apparent is that the future is immutably tied to the present.
Speaking of the future, check out "Future Shock at 40". Imagine predicting the Internet, Prozac, YouTube, cloning, home-schooling, the self-induced paralysis of too many choices, instant celebrities, and the end of blue-collar manufacturing. Alvin Toffler predicted all of them. Interesting stuff there.
I kept a question for the last: "Are you an insecure overachiever?" Please allow me to invite you to read that piece in silence and decide for yourself!
That's that for this fortnight. I promise to keep plodding. The next edition is special. Thanks for all the encouragement and spreading the word.
Image credits Pixabay