Its the strongest storm in 25 years. Typhoon Jebi has been quite something to Japan and to me too. For I have never been near one in my life. I write this with winds howling outside the window and rains joining the party.
The Japanese go about their work with a resolute calm that I haven't experienced any place else. The welcome note at the rented apartment mentions with nonchalance, "By the way there could be earthquakes. When they happen, don't panic". The note proceeded to give instructions on what to do next, including which TV channel to watch, to get the latest news! But nothing to beat this toilet seat that I used in the Tokyo airport and is common place much elsewhere as well. Guess what the privacy button there is supposed to do?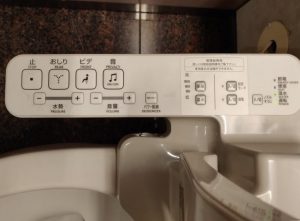 Well, it emits a sound of flowing water that can drown out other sounds that can involuntary emerge from you whilst you are sitting on the pot. I mean, what if you broke into a song and you didn't want the man in the next stall to hear? Plus, you have volume control to boot. I was reasonably amused whilst being quite taken by the Japanese sense of empathy (for the other man, you might say. It's all the same 🙂 ). I did some cursory research and I realise there is a lot to report.
Of course, I will try and publish a few more blog-posts for those of you who are any interested. For now, let me get on with this edition of The Owl.
Yuval Noah Harari ponders on what it would take to live in 2050. Writing from Japan, I am sure it will be different for countries. But the tyranny of algorithms are something all of us need to chat about. My favourite lines are these; "You will have to repeatedly let go of some of what you know best and feel at home with the unknown. Unfortunately, teaching kids to embrace the unknown and to keep their mental balance is far more difficult than teaching them an equation in physics or the causes of the first world war. You cannot learn resilience by reading a book or listening to a lecture".
"To run fast, don't take much luggage with you. Leave all your illusions behind. They are heavy". That man has a way with words and thought.
Lynda Gratton expounds three barriers to developing soft skills. Whilst being simple it provokes thought. Do not miss it! Do something about it after you have read it.
There are two other lovely pieces. One on self-driven cars and another on seven deadly sins of business travel. Besides of course, one on Blockchain, where four women who rock the Blockchain world are featured.
That's that this week. Thank you so much for all the support. Thanks to all those who responded to help out in Kerala. And all other places of the world. We need to support each other and live on.
Wish me luck as I wander into Osaka and all it holds. That's for tomorrow. For today, lets make it count. Making today count is a good way of making tomorrow work. What say?
Image credits Pixabay