Well if you are like me, you have heard this word 'Blockchain' bandied about. You have read and heard so much about it in the news yet you wonder if you really do understand it. It can seem that everyone is talking about blockchain and ledger technologies, but the truth is most of us are not yet up to speed, just like me! What Blockchain is and 'could be' is fuelling industries the world over. Everyone seems to be seeking possibilities. So, what are some 'Blockchain Basics'?
In this space, I along with a colleague, will try and explore an understanding of the technology and possibility called Blockchain. We invite you to join us. We will attempt to understand Blockchain and it's many terms in as simple a manner as possible, through this series.
'What is Blockchain', is a good place to start.
In a nutshell, Blockchain is; A permanent secure digital distributed ledger.
Am sure that meant nothing! It didn't when we read it the first time and were trying to understand what Blockchain was about.
Let's see if an example makes it any better. Something we can relate to, an excel sheet?
Think of Blockchain as an excel sheet which is open on all computers in the network. Any changes being made to the excel will be visible to all in the network as it is being made. It hence always is transparent and in a state of consensus. To be clear, it is not one excel in a central location shared by hundreds of computers. It is hundreds of copies of the same excel stored on hundreds of different computers across the world.
It also makes the data secure. Think of a hacker who has to erase the data from hundreds of systems to alter anything; earlier all he had to do was change it on 'one' master system.
Let's try another example exploring why the world is falling over itself imagining the immense possibilities Blockchain holds.
BLOCKCHAIN BASICS WITH AN EXAMPLE
Let's assume that 'you' have a file of financial transactions on your computer. Three accountants have the same file stored on their computers. As you make another transaction buying something, your computer sends an email to each of them informing them of the transaction.
All three accountants rush to be the first one who will verify if the transaction is correct and you can afford the 'buy'. The first one who verifies the transaction shares the logic with all the other accountants and gets paid a salary. If the other accountants agree that the transaction is correct and you can afford it, then everyone updates their excel sheet automatically.
This whole concept is nothing but Blockchain Technology.
If you wanted to indulge in tech-geek speak, here is your way to do it.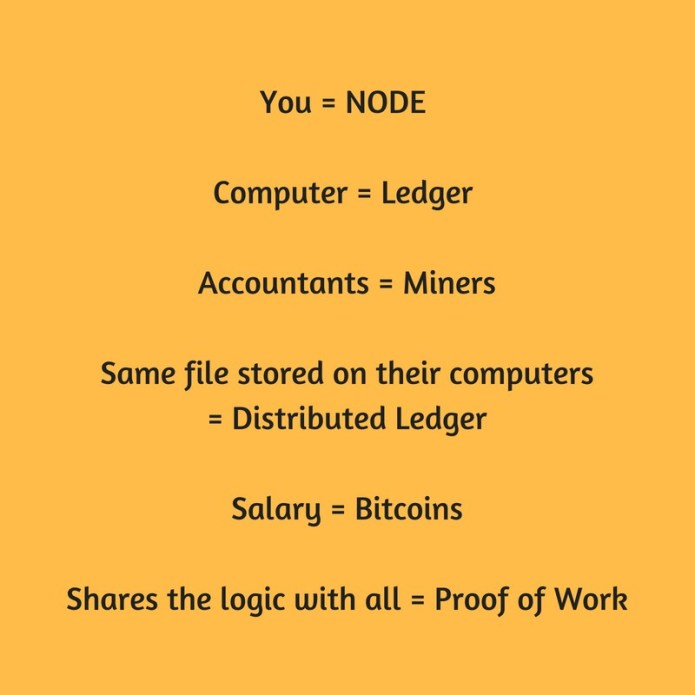 And voila you got geeky! Next time let's explore some of these terms Proof of Work, Distributed ledger, Consensus Protocol, Smart contracts and see what we see…